It all started at the Christmas dinner. Every year the group gets together and celebrates the flying year at the festive season. Where will you be flying next year came the question, to Pete, who hadn't flown much last year, so he was only joking when he answered. . "well, you know the TV program Coast, I am going to fly around the UK Coastline!" . Suddenly there was a lot of interest and strangely Pete was justifying his remark. Well, we don't fly together much, it would be a good way to encourage that.
So a chance remark had spawned an idea that became a reality, but with just a few days to go, the aircraft came back on line from servicing. The plan had been to have some shake-down flights to make sure everything was ok, but late back from service this hadn't been possible. Pete was able to find a gap in the weather to flight test, but unfortunately the second radio and the DME were missing and he experienced a radio failure while in flight. This was going to be a problem throughout the tour.
This didn't bode well and to make matters worse, Tony was recalled by work and couldn't now make the trip. For a short while the tour looked in jeopardy. More problems were on the way. Tony is a volunteer RNLI crewman, and he was arranging the service on the group's life raft.
The route had been planned for sometime, anti-clockwise, with five days flying planned, interspersed with a rest day. The map below shows an early version of the route that remained virtually unaltered. With some rescheduling they managed to cover all the slots and the tour was back on.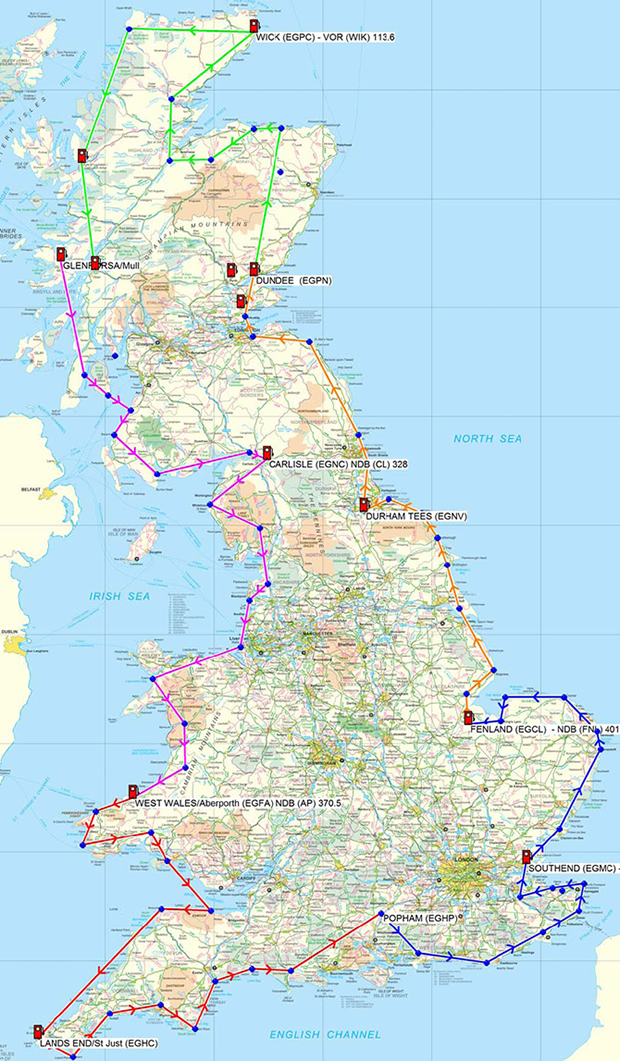 Following down the page, you will read the actual reports made at the end of each day, while the tour was running. The reports where often written very soon after landing and capture the sense of adventure and emotions that the crew had experienced just moments before. Apart from keeping the other tour members informed, it enabled family and friends to know they were safe and maybe raised a few smiles too.
---
DAY 1 - PLANS INTO PRACTISE
Monday 18th August - SO MUCH COFFEE!!
Nigel and Pete were at Popham for 08.00; now there's optimism. Even better, Richie turned up to send them off. First task of the trip was to work out the combination lock on the cupboard to get the life raft. Nigel's cunning plan paid off - he'd written it down....... somewhere. Soon opened, the cupboard was bare, so no life raft.
Time for a coffee while they studied the TAF's & METARS.
Another look outside and yes, the clouds were just clear of the trees; almost good enough for a circuit but not quite good enough for two flights totaling 344 nautical miles. Their decision time was approaching. If they weren't airborne by 13.00, they couldn't make Fenland. Time for some more coffee and see what the newest TAF's and METARS said.
Before they knew it, they were off. The cloud had lifted enough to get their minima of 1,000ft and things looked as though they might last long enough at least to get to the fuel stop halfway round. Southend, then Clacton and finally Rochester - the plan unraveled as to where they could get to, to refuel.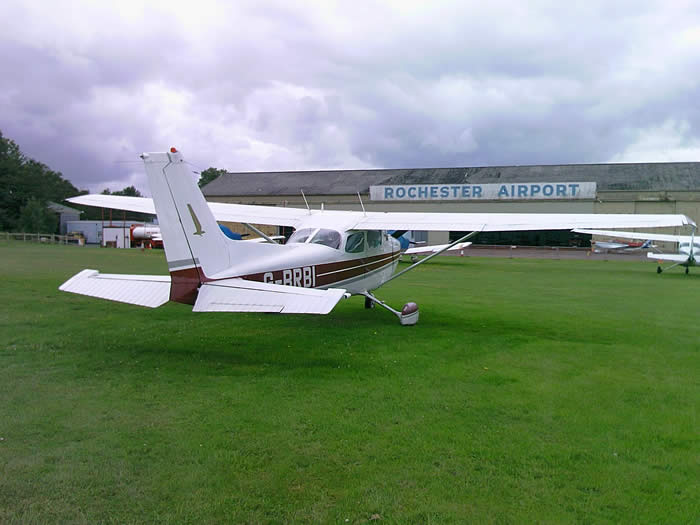 The first fuel stop at Rochester
The flight was very bumpy, despite Nigel's best efforts to stop Pete, his navigator, feeling sick but what can you expect at 1,500ft? They landed, refueled themselves and the plane, then swapped seats and headed off again out over the Thames and heading for Lowestoft. Even the loss of satellite reception couldn't stop these two. Skilful dead reckoning with Nigel in the Navigator's seat got them to Cromer, heading west to the Wash. The GPS decided to work again, which was handy as with only 3.3 Nm to go, they still couldn't identify Fenland, despite help from the air traffic controller at Marham. They arrived quietly at Fenland (normally closed on Mondays) to be met by the lovely Marie, who took them to their overnight stop at the Beeches B&B at Weston Hill and then off to the pub for a well earned pint.
---
DAY 2 - NO REST TODAY BUT ENOUGH DIVERSION
Tuesday 19th August - TYPHOONS AND TORNADOS
The weather at Fenland wasn't good, with high winds and low cloud. Dundee looked a long way away as Nigel and Pete tucked into their "full English" at the Beeches. The decision was to go to Fishburn, the planned refueling stop, and see what the weather was like before going on.
When they got to the airfield, G-BRBI was still tied down, despite the high winds during the night. They refueled and decided to go. The takeoff was uneventful thanks to Nigel's skilful hand and soon they had settled into the first flight of the day that was due to be 151 nautical miles.
Almost abeam Humberside and on the way to their third waypoint, the Otringham VOR, a vale of cloud seemed to close, like a silent grey curtain. At first it looked as though they would make is past the shower but it was squeezing them ever closer to the Danger Area at Saltfleet. Pete, on Nav and radio for this flight, had already asked if it was active, which it was, and they were told to keep clear. There was going to be no way past and no choice but to do the infamous 180. Pete called Humberside to inform them of the manoeuvre.
The previous night in the pub the boys had been swapping notes and both recounted tongue tied experiences with ATC; Pete's admission of his readback to ATC of "report abeam UBBLE-BUBBLE" instead of "Alderbury" had them in stitches. They vowed that the next time ATC asked them a question they couldn't immediately answer, they would simply reply "STANDBY". They didn't have to wait long; Humberside ATC "Bravo India – what are your intentions?" "STANDBY!!" came the prompt reply from Bravo India's radio operator, which would have had them in stitches again if they weren't highly focused on just what they were going to do. Options were limited; back to Fenland and risk the cross wind or brave asking RAF Coningsby if they would accept a bad weather diversion.
The breakfast at the Beeches was good but they weren't keen on seeing it again so soon so they elected to divert to RAF Coningsby and land amid the Typhoons and Tournado's. Pete called Coningsby Approach and made the request. "STANDBY" came the reply; this time the boys did laugh. Their diversion was approved and as they turned onto finals for runway 25, three typhoons were lining up to take off. Pete delayed the call of finals to give them a chance to get going, hoping that their 67Knots ground speed against the wind wouldn't put the Typhoons off.
Joking aside, the assistance from the RAF personnel at RAF Coningsby was exemplary and made a tough job much, much easier – Thank you all very much.
Sat in the operations room poring over the weather and talking to the RAF met officer, they watched the Typhoons and Tornado's go by. Finally, a gap in the weather meant they could make a short hop back to Humberside.
They say that every cloud has a silver lining and stopping at Humberside meant that Pete could meet up with his old South African Bush Flying instructor Allister, whom he hadn't seen for over two years, in the UK for simulator training at Humberside.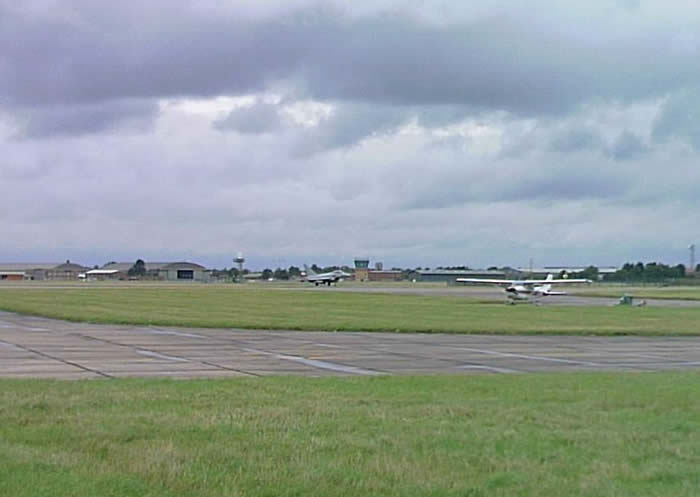 G-BRBI amongst the Typhoons at RAF Coningsby
---
DAY 3 - THE ENGLISH ARE COMING
Wednesday 20th August - SOGGY FISH AND NEARLY NO CAKE
It wasn't quite Bannockburn but the TAF's and METAR's had conspired to hold back the English invasion. This was the second attempt for them and time was running out. Flights had been rearranged and hotel bookings cancelled, so far without loss. Pretty soon the English would be forced to count the cost if they couldn't make it to Dundee.
In the pilot's briefing lounge, (back of taxi) the English knew they were up against it. They would advance to Fishburn, re-arm, take stock of the TAF's and study the strengths of the METARS. It didn't look good. Yes, they would get to Fishburn (or so they thought) but if the TAF's were right they could expect the Cumulonimbus clan to have joined the fray at Glasgow and be heading their way.
They set off from the caring hand of Humberside and headed north. For once they didn't have to drag their spats over the English landscape; the cloud base was higher and now they had the view that you get when watching Coast on BBC TV. Pete, navigating and on radio, had long since abandoned the chart for the camera and snapped happily away as they flew over Bridlington, Scarborough and Whitby but as Durham Tees loomed ahead, it was time to go back to work and plan their zone transit through Durham Tees control zone and off to Fishburn.
Durham were kind and the cloud base had them reaching for the oxygen bottles at 3,000ft. As they approached Fishburn, cleared by Durham, there was no reply to their call for joining instructions. Continuing the approach, making blind transmissions to advise any other traffic of their position, they were now late downwind and 3 minutes away from landing. Fishburn suddenly came to life telling them not to land; the aircraft before them had had an accident due to the strip being waterlogged! Back on the radio to Durham to inform them that they would be diverting for a second time. They had planned to go into an 800m strip, but now were forced into Newcastle International Airport. Landing in amongst the big jets was difficult but they made it safely. After a quick sandwich they returned to study the weather.
There was a chance the bad weather was forecast to be where they were heading so the plan was to fly to St Abbs where the higher ground starts and see what lie behind it. Worst case scenario was back to Newcastle. Dundee would not be a piece of cake.
As they set out, a shower had them wondering. The troubled radios were full of static and hard to hear and visibility was poor. Then the sky went so dark, the dim radio displays looked like Piccadilly Circus. They could just get under the black curtain and the other side looked much brighter. Before getting to St Abbs, the decision point, they passed Berwick upon Tweed and Holy Island, views that made the trip worth it.
At St Abbs, talking to Scottish control, the weather at Dundee was good enough, but it meant a sea crossing and there would be no horizon. Whereas Nigel was reasonably happy with the prospect, it had Pete reaching for his Teddy. With Teddy duly blindfolded and placed on the dashboard they set out over the water. Pete's radial scan of the instruments was holding up and would need to for the next fifteen minutes. A minor course correction from Nigel stopped them heading off to Norway. Much to Pete's relief, they could see the coastline again. Cleared through the zone at RAF Leuchars, they had nearly made it. Up the mouth of the Tay and Scotland's last ditch attempt to repel them was asking them to orbit but little would stop them now.

The panorama at Dundee, taken from a mobile phone
They landed, completed the logs and Nigel made a dash for his connections back home. Teddy still isn't talking to Pete and Nigel was originally supposed to be home on Monday night, but now none of that mattered. The first two positioning legs were complete, the aircraft was at Dundee ready for Richard and Malcolm to take her around the top of Scotland and all still on schedule.
---
DAY 4 - A DAY OF REST
Thursday 21st - FRESH LEGS
The tour had been planned with a rest day after each flying day but so far that hadn't proved possible so Thursday was a relief for BRBI to be in Dundee while the fresh crew were in transit. The next two legs are possibly the most challenging and good weather is an essential ingredient so while the tour members reposition, here are some pictures.
The view from our office

Nigel cool under pressure (even when Pete's flying)

Whitby

Just outside Filey

Finals into Humberside

Typhoons below leaving RAF Coningsby

Beautiful railway bridge of the silvery Tay...
---
DAY 5 - GETTING ON YA' WICK
Friday 22nd - IT'S THE BIG ONE
That's not just talking about Richie; this is probably the pinnacle of the tour. It certainly sits at the top and is the most remote, toughest terrain, with fewest diversions available. Last night Malcolm and Rich joined Pete at Dundee. A quick pint, dump the bags and off for Dundee's finest 'Ruby'. The wisdom of a curry before 2 plus hours in a small aluminium can produced the usual boys' jokes and almost in a mature sense, "Blazing Saddles" and "Mr Taggart" didn't get a mention. At Breakfast the weather looked great; blue sky and a few fluffy clouds.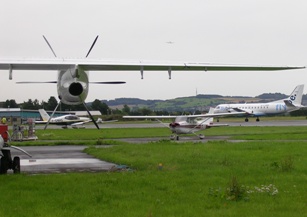 G-BRBI at Dundee with the big stuff
By the time they had cleared airport security, 'A' checked and refueled the aircraft, it was a different story and the weather was really getting on our 'Wick'. At 10.40 Malcolm and Rich got airborne. ETA for Wick would be about 13.15 or they could be back at Dundee.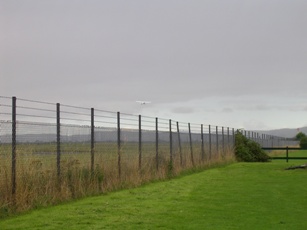 At last after a long delay - off to Wick
The Captains Log:
The intrepid duo of Captains Chaos and Davis met up with Billy-No-Mates Dawkins, who was getting desperate for company as Teddy was still sulking.
Friday had started with broken cloud and whilst Rich consulted the weather, Fingers continued to program his Garmin; he had stopped after 3 hours the night before when adding additional waypoints was proving too challenging! The Met took a turn for the worse, throwing the trip into doubt; at Fraserburgh and Wick things were declining. At Dundee the weather was also dropping; still flyable, but a concern. The decision was taken to start the route but to be ready for a 180 back to Dundee.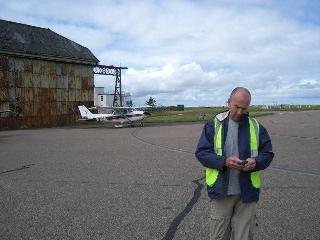 Fingers is at it again on the Garmin!
After refueling and paying for parking and landing fees (where they were told to book out by radio) the pantomime started! Over the radio they were told to shut down and return to book out. Malcolm returned to the tower where ATC said to scribble their details on a scrap of paper! The farce continued with a 10 minute delay at the hold and some curious orbits before departing to the North.
Conditions were above minima but low cloud and rain showers kept the dynamic duo on their toes . Before long, it was time to get the crossing clearance from Aberdeen, who were excellent, and gave them a clearance off the coast where they could remain VFR, despite weather deteriorating again. Things did improve enough not to have to return to Dundee but the turn at Fraserburgh had to be well off shore. Further improvements meant an orbit at Gardenstown, where Rich had friends. They were now getting an excellent service from Lossie and another check of the Wick weather meant they could continue to go on towards Inverness for another go/no go point. There was a lot of Kinloss/Inverness IFR traffic but it was refreshing to hear someone else make a mistake and a grown up attitude prevailed.
Due to traffic, the decision was taken to turn North early so as not to add to the Inverness workload and they now crossed the first of the, fortunately inactive, Danger/Restricted zones. Beyond this, the rain and cloud provided the most challenging conditions of the trip but the terrain became much more rugged and beautiful (in a totally manly way!). Fingers did a bit more Garmin programming to take his mind off it all.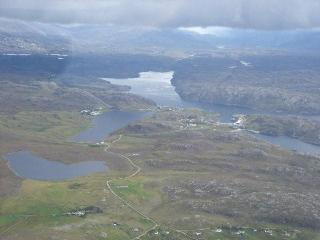 Check out that cloud!
The closer they got to Wick, the more the weather improved and they felt part one of their mission could be achieved. Arrival at Wick was scenic and uneventful and they were given a friendly welcome and assistance in preparing for the next leg.
At the boys curry in Dundee, Malcolm, without any prompting recounted the tale of his qualifying cross country, telling of his unique cross country bladder control technique. Quite how he managed to fly the aeroplane and remain on track at the same time was beyond the others and tears of laughter prevented any serious analysis, but on this occasion, his skills seemed to have deserted him. Either that or he had been more than scared flying through the challenging weather of this leg as a large, wet patch on the seat of his trousers had developed. In reality, it was probably due to the leakage sustained by BRBI as a lot of rain had fallen the previous day, especially on the right seat, and Malc had managed to soak it up nicely for the seat swap!!
Using the ATC weather and further, excellent support from Pete it looked as if leg two was a goer. In fact, Glenforsa were waxing lyrical about their weather. Watered, fed and refueled - £167 plus VAT, ouch - Fingers managed to stop programming his Garmin long enough to launch the team into the remotest part of the UK, with little in the way of alternatives, except Kirkwall and Stornaway. As it turned out, both the weather and the scenery turned out to be magical.
Again, keeping off the coast to avoid the low cloud over the high ground, they were treated to a magic carpet of cliffs, bays and inlets, leading to the mountains inland. Initially, they had trouble maintaining contact with Scottish Info and a USA registered CAT provided a relay. However, turning the corner at Cape Wrath, the next Scottish frequency provided good comms. Even though they were a long way from sanctuary, if they had run into problems the rugged, remote scenery did not seem as intimidating as it had when planning the trip and they sat back and enjoyed the vista with lots of tiny communities perched between the crags and cliffs, with occasional white sandy bays and turquoise blue water.
In the final stretch, Skye appeared off to the right and they were able to enjoy cutting across islands and down the Sounds. A brief orbit at Tobermory before calling Glenforsa, which had been quite active, and Malc did an excellent job of getting them in. As they drank in the views they put BRBI to bed, before starting the banter with other pilots, visiting and local, drifting off to the bar at the Glenforsa Inn. Sitting in the bar with a Malt, looking at the stunning view up the Sound of Mull, surrounded by the hills and mountains was almost spiritual. Well, with the Whiskey it most definitely was!!
| | |
| --- | --- |
| | |
| Finals into Glenforsa | Rich and One last pic before the spirits take him |
Thanks to the group, and particularly Pete, Malc and Nigel for making that moment possible.
After an excellent meal, they checked the weather and all seemed promising for the next day. They had an early night and Rich went off to sleep, leaving Fingers programming his Garmin in readiness for an early departure.
---
DAY 6 - THE OBAN SHUFFLE
Saturday 23rd August - Crew transit day
Today the boys had to do a bit of Highland dancing and learn the Oban Shuffle.
In the morning, weather in the East showed markedly dropping cloud, with Dundee giving scattered 600, broken 900 and a front coming in from the West already making its presence known where they were. Another series of go/no go decisions followed, with a quick flight to Oban for fuel and a long wait, due to them not having been able to contact the refueller the prerequisite number of hours in advance. However, everyone was friendly and they got on their way at 10:30. They chose the Southern route as it promised the best weather and terrain clearance. It turned out to be an easy and pleasant trip with the character of the land changing at the Isle of Bute turning point. They were keen to get to Dundee to give Pete and Malc the best chance of getting back to Oban and whilst it was great to meet up with Pete again a quick turn around was needed for all; and no GPS programming time for Fingers!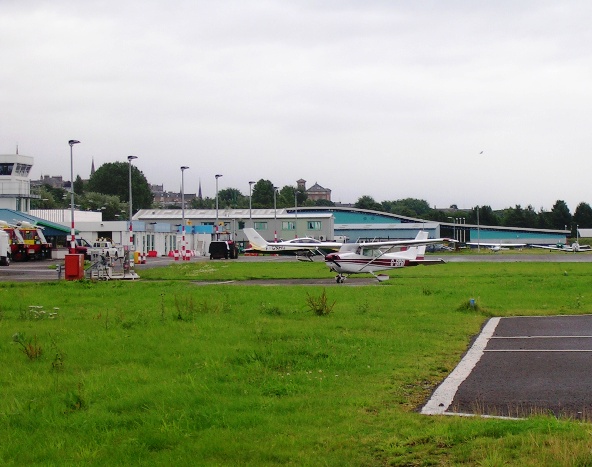 G-BRBI at Dundee again
So, crew two handed the baton on after an uncertain, but ultimately very enjoyable, leg. Pete and Rich swapped for the flight back to Oban before the weather front hit. Pete knew they needed to be on the ground by 16.00 and decision time was 12.00. Bravo India touched down at 11.55. Pete and Malcolm got back to Oban at 14.05. Two planes came in after 4 o'clock and said it was nasty.
---
DAY 7 - ON THE WAY HOME THANKS TO JOHN
Sunday 24th August - ALL SAFE & SOUND
At Oban the weather didn't look good and it wasn't definite that Pete & Malcolm would get away. They Met up with the G-IJAG team, who were on their way back to Denham. They came in after Pete and Malcolm last night and said conditions were horrible.
The weather started to improve and it was only fair that Malcolm and Pete set off and report the weather back to Oban. Malcolm flew a complicated low level route to Carlisle and that went very well. The weather was better and they wanted to make the most of it, so a bit more planning and they got going again, but as they did the engine run up tests, the left Mag was really bad. It looked as though this would stop the tour right there. Pete battled away to clear the fouling, bending the toe breakes to hold Bravo India still. Malcolm droped the Navigator/Radio/Photographer role and switched to engineering officer and soon the trouble had gone. One more check as they lined up on the threshold then they were off. The weather was good and Pete may now be odds on for the Albatross award, getting up to 5,000ft, and Rich looks like his 400ft will win him the "Ditchy Duckworth" award for low level flying . The endurance award is unlikely to be broken; Fingers is currently way out in front, with 9 hours programming his GPS, sometimes Pilot in charge and occaisionally dual GPS.
The dreaded orbit was once again requested, this time around the Blackpool Tower, obviously with the accustomed hands in the air shouting "WHOOOO!!!" so that a departing 737 could get away.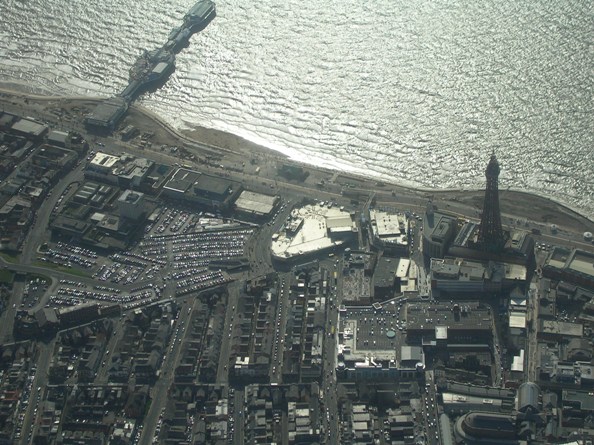 Orbiting the Blackpool tower - what fun!!
Liverpool ATC gave them a zone transit and asked them to decend low enough for them to nick the Spats.
After that they could climb back up to 5,000ft and off to Wales. So at that point they called Caernafon to route overhead, cleared not below 2,500ft, but by the time they got there they couldn't even make 2,000ft.
Then it got worse, high ground left and right, with a mast on the left reaching up into the clouds. They were forced to decend, with the terrain map on the GPS they could keep clear of the electricity pilons running through their valley and Pete was visual with the mast. Then as if on queue "SATELITE RECEPTION LOST" and with it the terrain monitoring. Now they were looking for an exit plan.
Maybe a call to West Wales might help, if they were within range. Up at 5,000ft they might have been heard, but now they were forced to decend were they too low?
Before setting off, Malcolm had telephoned West Wales to organise permission and had spoken to John. Instead of finishing at 17.00 to get home for his beans on toast, John waited for the boys.
Optimistically Malcolm called West Wales, still a long way away, and got an immediate response from John; he could tell they were concerned and the information he gave them made a big difference. If they continued they would come into better weather very soon.
This is the point John realised they may have loved ones concerned and offered to call them. The best was yet to come. John, not only an air traffic controller, but also a pilot, knew what they were facing and unbeknownst to them, John had tracked their progress since leaving Carlisle. He told them the best route and, looking out of the control window, gave advice. His detailed knowledge of the area gave them a point to point track to follow. Telling them what to look. He could see a long way back towards them and that was very reassuring as it meant the visibility was improving.
At a particular point, a clear line of sight opened up, John relayed more information and Malcolm responded with position reports. John was now looking out, confident he would see them very soon. Pete fired up the landing light and instantly John reported he had them in sight, even though they still had 20 miles or more to run. It was like John had access to the Starship Enterprise's tractor beam and he had persuaded Captain Kirk to let him use it. Not knowing the field, it was hard to see, even though they knew where to go. It started raining and the light was beginning to fade fast.
Although the picture was deteriorating and it had now passed 18:00, John's voice on the radio was a constant reassurance. Now they had the field in sight and John must have been relieved, at least to know he would make it to "Mama Mia" with his wife that night.
Bravo India turned onto finals and John warned them of Gulls on the runway.
Pete was thinking back to his Bush flying in South Africa where Allister had taught him how low pass field inspections were done to clear the wildlife, so after nealy 3 hours flying, gulls would not be a problem, vultures might have been a different story.
They taxied to the Hanger and put G-BRBI to bed and John took them all back to the tower for a well earned cup of tea and the most delicious Welsh Tea Cakes. So, quite remarkably, 80% of the tour complete and an "on stand, doors open" accuracy that would have passed muster with the Royal Squadron.
Now it was time to see if Gordon, the Skyhawk Group travel advisor, had found the right hotel. Job done Gordon, you only need a blond wig and you could take over from Judith Chalmers!
.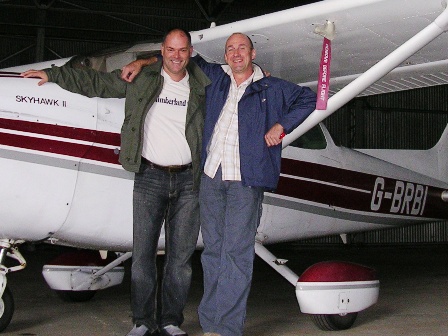 Smiles after a long hard day in the office
Very tired after 4.9 hours total airborne time, but relieved to have got to West Wales safely and on time.
---
DAY 8 - THE END FOR SOME - THE START FOR OTHERS
Time to go home, for Pete & Malcolm it was the end of the line. It would be down to Gordon and Nigel to bring BRBI home on the final legs. So Pete and Malcolm went back to the airport to tidy things up for the next trip and to say thanks again to John, meanwhile, Team "Home Run", aka Gordon and Nigel, met up on time at Popham at 10.00Z steeling themselves for a Bank Holiday drive along the M4 and through South Wales to Aberporth. The weather was poor and this may well have discouraged the day trippers as the journey was smooth and quick(ish) with plentiful aviation related chat to keep both driver and passenger from getting bored.
The initial destination was the airfield to check nothing needed doing regarding BI before the next day. The gates to the Aberporth Hilton and the Airfield office were all padlocked shut, but a telephone call to the tower gained progressive taxi instructions to find our way in with the final waypoint being given as "look out for the bald bastard waving from the tower" – this was Aberporth-John. A cup of tea and a chat established everything we needed to know for the morning and we went to check out BI. All was in perfect order and Nigel chose to explain the odour in the interior as due to the water leak rather than the recent stress on the pilots.
The Gwbert hotel recommended by our Skyhawk Hotel Consultant was found without any particular problem and there was enough time for Nigel to enjoy his favourite Scandinavian relaxation technique (a sauna - what else!) before an excellent dinner. Well picked Gordon!
---
DAY 9 - THE HOME RUN
Breakfast was enjoyable, but the weather looking out over the bay wasn't – 400 feet in rain. METARs obtained via Blackberry were showing a cloud base of 300-400 feet on both sides of the Bristol channel and down in to the West Country. There wasn't much else to do than check they did have space at the hotel if we did need another night and then to head for the airfield. The weather was still "****" when we got there and so it was time for a cup of tea and a chat with the controller David while we waited. A couple of French microlight pilots who had been blown from Ireland to Aberporth the previous day and a couple of helicopter pilots working on target recovery at the range were also available for chatting purposes. Sadly whichever way we looked at it the weather was just too poor to make a viable plan.
Relatively suddenly the weather in the West Country picked up a bit with the cloud base soaring to 1000 feet. The Bristol Channel was still bad, but a plan was formed if we could get across the danger areas South of Pembroke. A telephone call to London Military confirmed one of these danger areas was cold for the day and so the plan was workable - fly around the coast past St Davids Head route up Milford Haven to Pembroke Dock, cross the cold danger area and do a long 48nm overwater leg to Chivenor and then pick our way down the North Coast of Devon and Cornwall.
Gordon was flying as his IMC rating might well prove necessary. The weather was at its worst around St Davids with a 180 in IMC being necessary at one point to regain the relative safety of the coast. Carb icing was also causing a bit of rough running in the very wet air. However, the plan was working and the weather was reported as better on the other side of the water. Coasting out from near Pembroke Dock was a good time to check the life jackets and that we really did want to carry on. Gordon flew the crossing on instruments as there was no horizon, but Chivenor eventually came in to view in the right place at the right time. The North coastal route was flown at 1200-1500 feet (reach for the oxygen!) and thoughts turned to Lands End.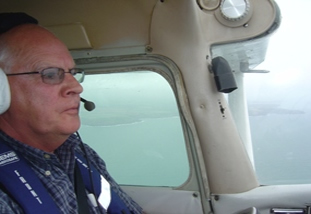 Gordon in IMC, hard work!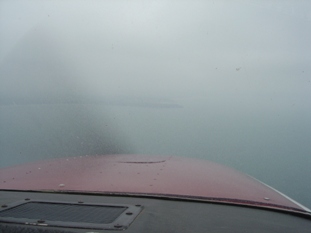 ...and this is why, can you see the horizon?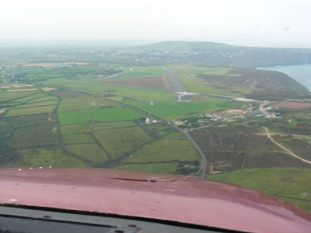 Perranporth - a welcome sight
At this point team "Home Run" realised they hadn't telephoned ahead for PPR at Lands End and that Lands End was in the middle of nowhere. There wasn't enough time left to make the flight on to Popham and so a night in Cornwall would be needed. Perranporth fitted the situation nicely. By this time we weren't the only idiots in the air as we started to hear a few others on the radio and arrival at Perranporth was windy, but uneventful. A taxi to town, a couple of well earned pints, decent rooms at a beachfront pub and a good local meal finished off the day.
---
DAY 10 - THE HOME RUN (Take Two)
The weather was reported as overcast at 1000-1500 feet over most of the route back to Popham. Lands End was giving viz of 1000m and cloud on the ground; Culdrose wasn't much better. Team "Home Run" made the choice of crossing over to Falmouth and then routing along the South coast. Nav and flying were much easier than the day before and there was even a good tailwind (130ish knots GS at one point)!
Plymouth and Yeovilton where available and helpful and it didn't seem too long until it was time to talk to Boscombe. Almost home!
Chilbolton was spotted and then the silos, a welcome Popham landmark. A deadside join and 26R saw us home at Popham well before midday.
One good thing about all the bad weather and flying through cloud and rain over the previous day was that BI was relatively clean and bug free – they had all been washed away by 100mph rain drops.
---
THE EPILOGUE
Phileas Fogg may have have travelled around the world in eighty days, but the Skyhawk Flying group had just gone around the UK Coastline in 24 hours. Not all the 24 hours were in the same day of course. The one thing that we all said before setting off on this adventure was that the weather would wreak havoc causing delays and making the logistics of the trip very difficult. Its true it had an effect, but after 8 days we were still on time and at the end only a morning late. The point of the exercise was for the group members to share flying together, something that curiously happened infrequently considering what a close-knit bunch we are.
The other reason was to sample at first hand the views featured in COAST the BBC TV program. We couldn't have imagined just how challenging and yet fulfilling the flying would be and how breathtaking the scenery was.
So many lessons learned, experiences and memories shared. What a beautiful land, so priviledged are we, perhaps especially the five pilots who have seen it all, or at least the bits that the haze, mist, rain, showers and clouds didn't obscure.
Of all the thanks and gratitude we must surely owe, the most must be to our wonderful C172 G-BRBI for taking all five of us Round the UK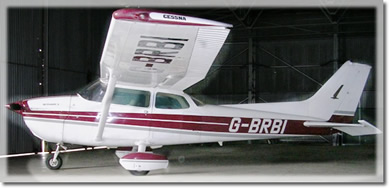 G-BRBI